THE
AUTHOR
WHO
SHOCKED
A
NATION
WHEN THE WORLD was exposed to Alfred Hitchcock's 1960 feature PSYCHO, it was also being exposed to the mind of ROBERT BLOCH, author of the nerve-tingling, peace-of-mind wrecking novel on which the movie was faithfully based.
Since the tender age of 18, Bloch had been writing short stories and novels that glimpsed into the aberrant mind of psycho-shocked man and in turn shocked PSYCHO into millions of readers.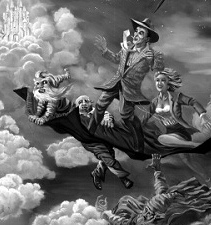 KENN DAVIS' COVER FOR
THE LEFTY FEEP BOOK
But there was another side to Bloch that has had less exposure. He was a lover of wordplay, and frequently
engaged in puns, rhymes and other literary lapses in many of his weird tales.
Sometimes those fantasy tales tended to the comedic, and in
the 1940s Bloch wrote a series of such stories for the pulp magazine, FANTASTIC ADVENTURES, depicting the fantasy misadventures of a jive-talking, zoot-suited racetrack tout.

Literary take-offs on Rip Van Winkle, King Midas, H.P. Lovecraft, Arabian Nights adventures and other legends provided an escape for wartime readers.

In 1987 Creatures at Large became the first (and still only) press to reprint eight of Bloch's hysterically funny stories for the first time under the title LOST IN TIME AND SPACE WITH LEFTY FEEP.
These nutty narratives are packed with nerdy names, outre rhyming schemes, unforgivable puns, syntax-zapped sentences and weird wordplay. In short, you will roll in the aisles. You will feel your sides splitting.

But beware, dear reader:

YOU COULD DIE LAUGHING.
HOW PROFESSIONAL WRITERS REACTED TO LEFTY FEEP:
RAY BRADBURY (Author of "The Martian Chronicles") "In a field that often takes itself much too seriously, Bloch makes me laugh. Good medicine that. I wish I had the patent!"
RICHARD MATHESON (Author of "The Incredible Shrinking Man"): "Lefty Feep's observations and adventures will endure to make future generations chortle and enjoy. Long life to Lefty and his creator."
RICHARD LUPOFF (Science-Fiction and Mystery Author) : "Lefty Feep is back! A welcome combination of Damon Runyon and Groucho Marx. Bloch's wisecracks and acerbic comments on the human condition will howl with a hearty portion of pleasure and an occasional twinge of pain."
WILLIAM F. NOLAN (Author of "Logan's Run"): "Bloch is a supreme storyteller . . . He's the Court Jester of Dark Fantasy, a writer who always delivers chills and laughter!"
RICHARD CHRISTIAN MATHESON (Fantasy Author, Filmmaker and Son of Richard Matheson): "Bloch has done for writing what color did for pain, Nijinsky did for tights and Norman Bates did for showering with friends. He is able to levitate language
and humor to a height even floating ladies rarely rise."
HARLAN ELLISON: "Bloch is the mad literary equivalent of Dr. Frankenstein . . . In
the shadow of Life and the Bomb, he still reminds us that nonsense is the dearest panacea for what ails us."
RIOTOUSLY
FUNNY
RIB-TICKLING
CHORTLING
GUFFAWING
CONTENTS