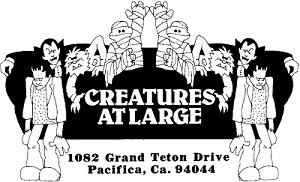 PRODUCT ORDERING INFORMATION
You can order CREATURE FEATURE books, DVDs, and CDs, via check or money order.
Items are shipped by special "Media Mail" postal rate that takes about a week for return.

If you would like faster, please include an additional $3.00 per order for Priority Mail shipment.
Don't forget to tell John Stanley how you want your item(s) autographed, as he will sign to your specifications.

The address for all orders, correspondence and other communications is:

Creatures At Large
1082 Grand Teton Drive
Pacifica, CA 94044
John Stanley's E-Mail address is:


creature@netwiz.net
Stanley welcomes all queries, comments, questions and wise-guy remarks.

CREATURE FEATURES:
THE SCIENCE FICTION, FANTASY AND HORROR MOVIE GUIDE
John's fifth edition in THE CREATURE FEATURES MOVIE GUIDE SERIES
was issued as a mass-market paperback by Berkley Publishing under its Boulevard imprint.

At an $8 cover price that makes it affordable for everyone living between the Bates Motel and Transylvania,
CREATURE FEATURES: THE SCIENCE FICTION, FANTASY AND HORROR MOVIE GUIDE
can be found in bookstores and other traditional places where mass-market paperbacks are
normally found: drugstores, supermarkets, poolhalls, racetracks and assorted cultural centers.

This edition featured 450 new reveiws and is packed with new cross references and videotape/laser disc
information not contained in any previous edition. It is expected to be the first in an ongoing series from Berkley.

Please Do Not Order This Book from Creatures at Large Press.
Inquire at Your Favorite Bookstore
THE
CREATURE
FEATURES
MOVIE
GUIDE
STRIKES
AGAIN

This fourth-edition, 460-page trade paperback edition in the series -- replete with an introduction by one-time CREATURE FEATURES host John Stanley, 5,614 reviews, 232 photographs, 24 drawings, home video/laser disc information, and 1709 cross titlings -- is retailing in stores for $20.
However, You Can Purchase a Copy at the Special
DISCOUNT RATE of $10 plus $2.00 POSTAGE.
Saving $10 is nothing to squeeze at in today's overinflated, gotta-have-a-retail-price world. This wide-ranging volume contains hundreds of reviews that the newer edition--Berkley's CREATURE FEATURES: THE SCIENCE FICTION, FANTASY AND HORROR MOVIE GUIDE--does not have. Hence, completists should seriously consider this book for their collections. It is unlikely that these deleted reviews will be reprinted in the near future, even though they will remain in the CREATURE FEATURES MOVIE GUIDE database.
FOURTH EDITION
DELUXE
HARDCOVER
VERSION
This handsome version of THE CREATURE FEATURES MOVIE GUIDE STRIKES AGAIN comes with slipcase and dustjacket, and has the title engraved on the box. Each copy is hand numbered and will be signed by the author to your personal specifications.
It is normally a $50 retail item in stores.

However, You Can Order at the Startling, Stunning DISCOUNT RATE of $25 plus $2.50 POSTAGE.
| | | |
| --- | --- | --- |
| JOHN STANLEY'S CREATURE FEATURES ON DVD | | |
When John hosted "Creature Features" in the San Francisco Bay Area, from 1979 to 1984, he interviewed hundreds of major figures in the sci-fi and horror fields, produced dozens of mini-movies, and hosted well over 200 shows. Most of these gems were lost when the TV station thoughtlessly recorded over the original tapes. Miraculously, John was able to save some of his favorite segments with the cooperation of sympathetic station engineers. This DVD is a rare look at the fun days of "Creature Features" John Stanley style.

DVD #1 "John Stanley's Creatures Features" Contents: (120 minutes)
- Trailers of Horror
John's Creature Features special. Horror trailers of the 30's, horror trailers of the 40's,
sci-fi trailers of the 50's, trailers from John's favorite movies, and lots of extras.

-Creature Feature Interviews
John interviews Gary Kurtz "Dark Crystal", Charlton Heston "Mother Lode",
Ray Bradbury "Something Wicked This Way Comes".
- Psycho Interview
Interview with Richard Franklin director of "Psycho II". Franklin gives some great
insider information on the original "Psycho" and Alfred Hitchcock.
- Bonus Material: Behind the Scenes Slide Show
A rare group of photos taken on the Channel 2 set plus many extras.
-------------------------------------------------------------------------------------
DVD #2 "John Stanley on the Loose" Contents: (115 minutes)
-Interviews & Guests
All star guests of Creature Features. Star Wars cast interviews. Star Trek II cast
interviews. Robert Bloch as John's guest. Chuck Norris interview. Leonard
Nimoy visits Creature Features.
- Specials
Private Eye Night. Creature from the Black Lagoon show. Bug Eyed Monsters
show. New York stake skit. Bad Seed skit. The IRS Lady meets the Werewolf.
John visits the Hee-Haw set.
- Mini-movies
"The Stanley Cage", "Return of the Channel 2 Dragon", "The Mummy Rises",
"Meeting at Morningside" (Phantasm), "Adventure of the Persian Slipper",
"Little Shop of Murders" & "Attack of the Killer Scarecrow ( 2-parter).
"Revenge of the Channel 2 Dragon"
- Highlights
John visits Universal Studios and the Psycho house. John gives plenty of insight
on the making of the show. Lots of Creature Features show clips and previews.
A fantastic history of Creature Features, John Stanley style.

Each DVD is $15.00 each plus $2.00 for shipping (per order). DVD-R format.
| | |
| --- | --- |
| JOHN STANLEY'S CREATURE FEATURES COMPACT DISC | |
The sounds of Creature Features on CD!
- John's Original Creature Feature Theme
- Alien Show
- Musharuma, John's Outer Space guest
- "It Came From Outer Space" show
- 3-D Movies
- Comin' at Ya! Special
- Wacky World of Creature Features ads
- Bad Movie night
- Creature Features background music
- 1983 replacement CF Theme
Perfect for that lonely Saturday night with nothing better to listen to.
For the low price of $7.00 each plus $2.00 for shipping.


Creature Features: New Edition | Nightmare Chronicles | Creature Features Strikes Again | Gory Story
Favorite Movies | All-Time Worst Movies | Psycho Lives | Bob Wilkins
How to Order Product
Copyright © 2004 Creatures at Large Press
This Spider Website Maintained by Scott Moon
Credits